Proud to Support the Battle Against COVID-19
Published date: 08 Apr 2020
Back to Article Listing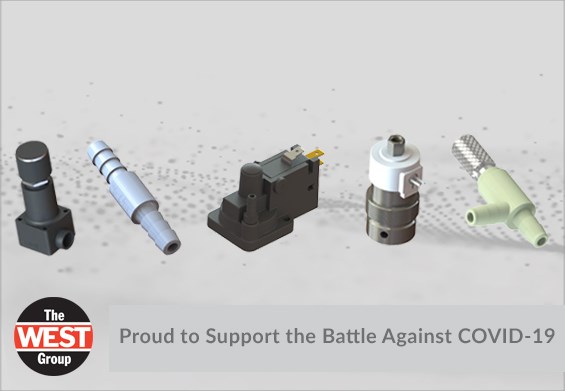 In recent weeks, The West Group (TWG) has been working hard on life saving projects. Of course, this has not come without challenges, but our committed staff are working around the clock to ensure we meet the demands of those customers who are under pressure to deliver their equipment to our nation's hospitals.
The West Group is currently providing components to around 20 different customers who are supporting the government's plea for critical ventilator production and the list continues to grow each day.
We are supplying products such as regulators, filters, pressure switches, respiratory barbed connectors, tubing, check valves, solenoid valves and so on.
We're also working with companies who manufacture machines for the delivery of vaccines.
We have received an amazing amount of appreciation from our customers who have, themselves, received heartfelt gratitude from the public, hospitals and other businesses.
TWG welcomes these opportunities to collaborate with our partners both in the UK and abroad in order to potentially improve the situation and continue to save lives in the process.