103 years at The West Group!
Published date: 01 Apr 2021
Back to Article Listing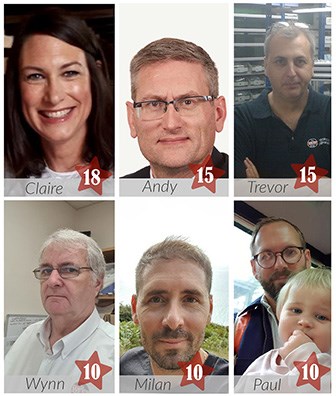 The world has changed so much in the past 50 years

and The West Group is no exception but some constants remain.
We have many loyal staff who have achieved long-service awards with us and, recently, we've celebrated some big ones. Trevor & Andy have been with us for 15 years each; Claire has celebrated 18 years, and Paul, Wynn and Milan have all been with us for 10. In addition we are very pleased that another 5 people have recently celebrated working 5 years at The West Group - Richard, Kate, Jennifer, Rob and Arec.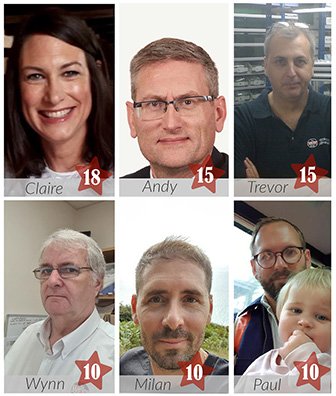 You may have seen Claire's recent LinkedIn post where she announced that she was very pleased to be celebrating her 18th twice, not many of us get to say that! Claire created the Marketing Department and has grown it over time to currently seven people, all working hard to promote the Group companies.
Trevor's first day was rather unusual - he arrived into a bit of a building site as The West Group was in the middle of a renovation. The first people he met offered him 'good luck' and a coffee but the first job was to find it along with a kettle after the kitchen had been demolished the weekend before. Trevor's first role was as an assembly operator. Since then he has worn many hats including Production & IT Manager and is currently our Group Systems Manager.
Andy's story is mentioned on our Careers page. As a trusted member of the Customer Services Department his day to day job is varied and includes discussing complex and detailed applications with key customers alongside mentoring newer members of the CSD team.
Paul started as a Junior Salesman, after his father Brian West's retirement and has progressed to International Business Development Manager. He says, "The memories, colleagues and friends I have made along the way has definitely made me look forward to the next 10 years".
Wynn started as a Design & Manufacturing Engineer and is now concentrating on the design side of the business. Wynn said, "TWG is a good place to work, I have had a very enjoyable 10 years here, I would say possibly the best 10 years of my working life (and there's been a few of them!) A nice friendly atmosphere with great people, a great team and more importantly great friends."
When Milan started working with us his week was split between the Production and Technical Departments. Now he is a fully fledged Design Engineer in Technical and uses his experience to support our Manufacturing Manager as necessary. Milan enjoys the variety of working with colleagues from different departments and is grateful for the support that TWG has given him over the years.
At The West Group we value our staff and appreciate their loyalty.