What is a Luer?
Published date: 03 Mar 2022
Back to Article Listing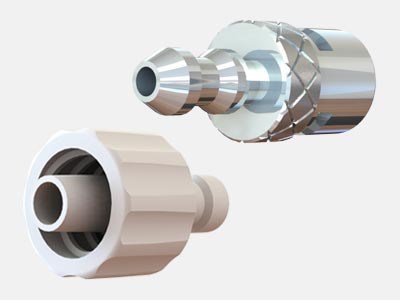 Luer fittings are used heavily in the medical and life science markets

but what actually is a luer connector?
A luer fitting is defined as a small, friction based, leak-proof connector. Its prevalent use is to connect tubing and equipment for the transfer of fluids and gases. The term luer represents a type of connection.
Currently in the market there are two categories of luers: Slip Luer and Luer Lock.
Luer Lock fittings have the additional twist-lock mechanism to hold the connection together. The result is a more secure leak -proof connection that can be easily taken apart.
The Male and Female slip luers simply slip together to form a seal.
The fitting consists of a 6% conical taper that mates to its male and female counterpart forming a tight connection that can easily be disconnected when desired.
Luer fittings are widely used in medical devices and life science applications such as:
Biopharma and Cell Culture

Ventilators

Gas Chromatography

Negative Pressure Wound Therapy

Intravenous Applications
We offer an extensive selection of material in our luer range. Each depends on your application, media, costs and the longevity you require:
White Nylon (can also be available in different colours - Black, Red, Green and Blue)

Natural Nylon

Animal-Derivative-Free Polypropylene

Polycarbonate

Radiation Stable Polycarbonate

(ABS) - Acrylonitrile Butadiene Styrene

(MABS) - Methyl Methacrylate Acrylonitrile Butadiene Styrene

Acrylic

Kynar

Eastman Tritan Copolyester

Stainless Steel

Nickel-Plated Brass

Acetal

PEEK
The West Group can advise on the best material for your application and provide samples to trial, to assist with initial prototypes.
We see ourselves as the leading player in luers and truly feel that we are an essential partner to your new development.